2020 Summer Reading Program
Imagine Your Story
Children and teens are invited to participate in the Neillsville Public Library's Summer Reading Program.
"Imagine Your Story!" is the 2020 Summer Reading Program theme.  Due to the Covid19 virus, the summer reading program will just be very different this year with no performers or craft days. We want to make it fun and exciting. Research has shown that children must read during the summer to maintain their reading level.
The 2020 Summer Reading program is for the following age groups:
Age 4-6 where a caregiver reads 25 picture books to their child. 

Age 7-9 children read 20 books.

Age 10-12 children read 15 books.

Teen reading will be from July 6 to August 15

13-19 teens read 4 books.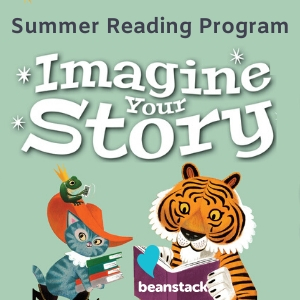 Register!
Sign up in the library or online with the Beanstack app.
Starting June 16 to June 30 please call the Neillsville Public Library 715-743-2558 to arrange a time to pick up a reading log and to register for the Summer Reading Program.
Win!
Turn in the reading sheet before August 15.
Read more books on top of your age requirement and you might get an extra prize!
Why Read Over the Summer?
The reading skills of children decline if they do not read over summer break, similar to playing an instrument, or not playing an instrument for three months. Those that read will be more likely to be on target or ahead of their peers. Studies show that reading skill loss is long-term and cumulative, each year widening the child's skills gap.
Kids can read a variety of print materials, including comics and magazines that they find interesting, as long as they're reading during the summer. The National Institute of Health states, "when children become good readers in the early grades they are more likely to become better learners throughout their school years and beyond."
Thank you to all of our sponsors this year!
Hansen's IGA
Neillsville Rec Department
Hardee's
Pizza Hut
Holiday Gas Station
Neillsville Library Foundation
Neillsville SubwaY
Strike Time Lanes
A&W