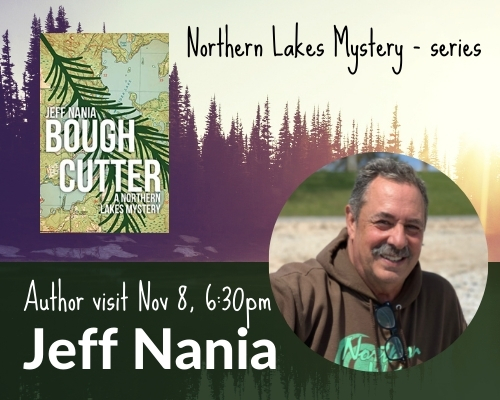 Jeff Nania: Author Visit
Monday November 8th at 6:30 pm: Jeff Nania
In his Northern Lakes Mystery Series, Jeff draws upon his years serving as a decorated sheriff's deputy and in-depth knowledge of Wisconsin's natural resource issues to weave together stories that keep readers wondering who is on the right side of the law in the small town of Musky Falls.
Click to request…
National Friends of the Libraries Week
The Neillsville Public Library gets by with a little help from our Friends and Community…. actually, we get by with A TON OF HELP from our friends with the NEILLSVILLE PUBLIC LIBRARY FOUNDATION!! The Foundation was established in 2008 and that group has given money over the recent years to fund many items and programs at the library. From children's summer reading programming, new furniture, and contributions to the new and emerging technology needs plus support for staff and director training…all of these have been funded by our Library Foundation group!! October 18th-24 and the National Friends Of Libraries Week is a perfect time and opportunity for our Neillsville Public Library staff to give our Friends at the Neillsville Library Foundation a big SHOUT OUT for all they do to make a difference for us every single day! We ask everyone to join us to Celebrate Friends of the Library Week and thank the Foundation for all they do to make our library and community so much better!
2021 reading Challenge
January 1st to December 3rd
Start off the New Year off fresh with a new reading challenge. For ages 16 and older from January 1st to December 3rd. The 2021 Reading Challenge is a great opportunity to push yourself to explore new topics, formats, authors, and genres while having fun with your reading list. We have selected 50 prompts to read from the list. Enter to win a special prize at the end. For every 10 books read you enter your name in the drawing. The 2021 Reading Challenge Booklist is for download or stop in the library for your paper copy. Just fill in the title and author of the book under each prompt.